Thank you all for the comments on yesterday's blog post! I'm so proud of myself...now I just have to remind myself of this when I'm pigging out on Thanksgiving. You know, I probably wont
gorge
myself on lots of treats, but I am not going to count calories, or limit myself. I think there is a difference between eating so much your stomach hurts, and eating vivaciously for a rejoice-ful holiday. What do you think?
I get to make a few dishes this year, I'm oh so proud!
First up, Brussel sprouts with bacon and shallots. My Brussels will be ROASTED! Which I think makes a world of difference. Then they will be added to the bacon, shallot mix.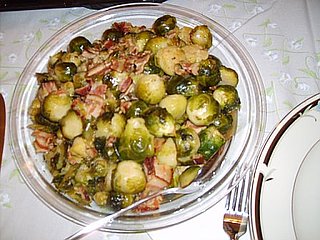 Secondly, I found a recipe for Smoky Sweet Potato Gratin. HELLO!
It has chipotle peppers in it, AND smoked gouda! YUM!
For my dessert, I've been tweaking a Paula Deen recipe for Pumpkin Gingerbread Trifle
This is what the taste testers look like, and then I will be making a big trifle bowl of it.
I couldn't find gingerbread, so I spiked spice cake with molasses and ginger. It tastes pretty good, but this one (which will be tested tonight) has gingersnaps with the spice cake layer. I think it will add that little extra 'thing'.
The only other meal I felt blog worthy today was lunch! Easy peasy sammie with egg, red. fat cheddar, and peppercorn turkey, with a honeycrisp on the side. I DON'T like the peppercorn turkey. I won't buy it again. Disappointing because I usually really like pepper.
Now I'm off to the wonders they call African American History. Wish me luck!