A big thanks goes out to all of you, my friends, who have been sooo supportive after yesterday's post. It's very scary, but we'll work through it. We always do.
Today I wanted to talk about stress management. I feel (like most people) like my mind is going in 50 different directions most of the time. As a full time college student, full time worker, AND helping take care of Nana, my life is a wreck most of the time. I hate how stressed I let myself get so today I decided enough was enough.
I had a panic attack in Sociology,
I felt extremely claustrophobic and worried about a term paper (it was for a different class, for a devil teacher, but I do have a term paper due in Soc. as well, lucky me) that is OH SO CRAZY, so, I walked out. I just walked into the hall, walked a bit and decided IT'S NOT WORTH IT! Honestly, it's not. Who cares if I make a 'C' in a class, if it's a grade that I pass then that's all that matters. Taking one day at a time is what I need to do!
I then decided that I need a break... I REALLY DO! So I left school early. I didn't go to my Math class and let myself get some errands done at home that really needed tackling. (Groceries, meal planning, laundry, errands, and organizing). Now that they are completed, I feel quite a bit better.
Then I decided, I don't have time to make lunch and dinner today, let's just not worry about calories, or nutrients, or money....LET'S TRY TO NOT BEAT OUR HEADS INTO A WALL! We went to Qdoba and I had half a grilled veggie burrito, and will have the second half for dinner.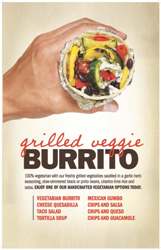 I only have 5 more weeks of school, maybe only 5 more weeks of MATC ever, but for now... I needed to give myself a little slack. I might not be able to take a vacation to Belize, or something like that...but I can let myself deal with my stress in (what I consider) a manageable way.
Tomorrow is my admittance counseling session at Mount Mary College (EEEKKK!) and my tour!
Marc is going with me for some moral support. I'm hoping that this can all work itself out and no matter what I'm keeping my chin up!