I begrudgingly got out of bed this morning, and went to my math class. I almost failed that last test (by 2%). Learned that the rest of the semester will be based off of the last curriculum, which means I'm in trouble. I walked outside to go to the downtown campus and it was white water down-pouring. By the time I got to my (very far away) car, my moccasins were sloshing with water and I was SOAKED. Teeth chattering and the whole nine yards.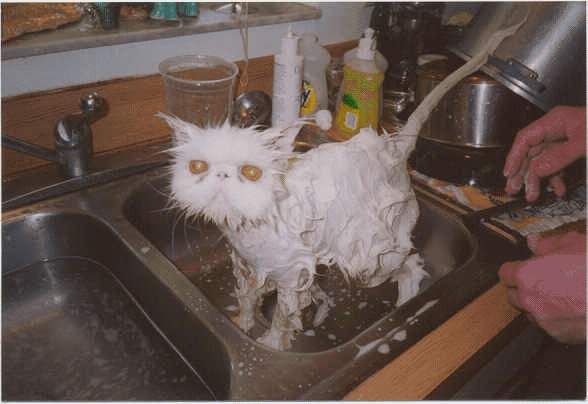 Yup, just like Mr. Kitty.
So instead of going directly to the downtown campus like usual, I had to go home. By the time I got done cleaning up and freshening up, class had already started by quite a bit. Mondays are short classes so by the time I would have gotten parked and in class, class would have been over.
Needless to say, chemistry class was once again put off. I just finished the test review for Tuesday, and the test is on Wednesday. I feel prepared so I hope everything is okay. Sometimes I get such a guilty feeling for missing class!
I was such a bum, my mood was sour, and I thought the best for everyone would be for me to catch some Zzzz's and Zzzz I caught! 3 hours worth..what the heck!
Let's hope tomorrow is better, all the way around!