Today just felt so much like Fall has arrived! I could do without the rain though. It's been raining everyday since last Friday here.
I was in such a fall mood that I thought, Pumpkin should be the taste of the day, so I made...
pumpkin turkey chili
and pumpkin spice tea latte
except I made mine at home with earl gray tea, fat free pumpkin spice creamer, and cinnamon...yum :)
So I had to drop my mom off at the airport, and I actually made my self detach from the moment or else I was going to completely lose it.
I ended up grieving when I was back in bed (we dropped her off at like 5am) . I don't know when I will get to see her again.
When I finally woke up, it was so LATE! (11:20am) so I ended up not having time for a jog, but did get some errands done. We went to the bank, went grocery shopping at Aldi and Pick n Save, and then went home. It was so nice because Marc was in SUCH a good mood! He's been so lovey lately and I'm thinking his new medicine has balanced his emotions. He did have a bad
day yesterday (or was it the day before?) but managed to get through it after lunch time. If you've never been around someone with severe depression it can be really hard but the good ALWAYS makes up for the bad. I think if I could do a 5k or any kind of race I would love to find one to raise money for mental illness like that. This could be a whole other post about depression...I think I might make a mental note to talk about it one day.
I managed to clean up quite a bit this morning so that could have helped with both of our moods! I found a couple old as the hills Glade plug ins, so when we went shopping I found some Apple cinnamon inserts.
I kinda hid it from Marc because he HATES apple cinnamon smell anything. So far he hasn't complained and my house is finally starting to smell how I like it! Fall smells, and wonderful homey yumminess (yes that is what I would call it, officially). All I need now is some fresh Eucalyptus since mine has pretty much faded completely away. Anyway, I really recommend this smell, it's not overpowering and doesn't seem to cloud over other smells but feels like I just baked an Apple pie with my mother like we did this past week...
I did end up weighing myself and am up 4 pounds, I was proud of myself to see that number and NOT freak out. I know I can drop that weight in 2 weeks comfortably so it was worth it just not worrying about it while Mom was here.
One thing that I forgot to mention that happened to me this morning was after Marc and I woke up the second time, he went upstairs to have breakfast with Nana and I was downstairs kinda lollygagging when all of a sudden I hear RAP RAP RAP RAP on the door. IT FREAKED ME OUT because our neighborhood isn't the best, and I have an overactive imagination. I got brave enough to answer the door, since the person knocked and didn't kick the door in LOL. Come to find out it was my replacement printer and the FedEx dude. Unfortunately(or fortunately) I was still looking like this...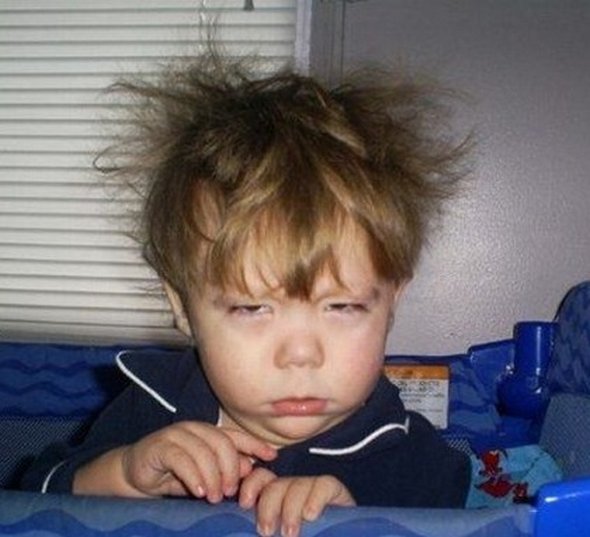 So for now I've gotten the house clean and finished up my homework. Come on 11pm so I can hightail it home.
(thought you would enjoy this Rayel, as it was one of your favorite lines growing up)